Infant reflux and regurgitation can be a burden for the family as well as the healthcare system
Almost 1 in 3 children suffer with reflux1 which equates to over 200,000 UK children each year2
Infant reflux and regurgitation are considered normal physiological processes that occur regularly in healthy infants
Factors contributing to reflux and regurgitation include3:
Large amount of time infants are spent in prone position
Large fluid intake
Shorter oesophagus
Developing oesophageal sphincter
Overfeeding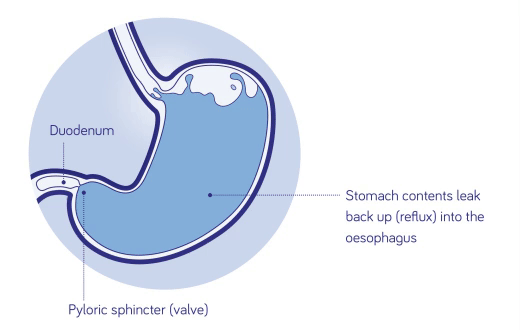 A nutrition before medicine approach can improve patient outcomes and reduce NHS expenditure on medications4
Pharmacological management is rarely required to manage infant reflux and regurgitation
For formula fed infants, NICE recommends a nutrition before medicine approach5. NICE advises against the use of proton pump inhibitors (PPIs), histamine-2 receptor antagonists, metoclopramide, domperidone, or erythromycin. North American Society For Pediatric Gastroenterology, Hepatology (NASPGHAN) & Nutrition and European Society For Pediatric Gastroenterology, Hepatology & Nutrition (ESPGHAN) advise against chronic use of antacids/alginates in infants and state that PPIs should be prescribed at the lowest dose possible and only when there is a clear diagnosis of GORD6
In one study in a UK hospital, 91% of children diagnosed with reflux were commenced on an anti-reflux medication7
The cost to the NHS for prescribing Gaviscon Infant between 2020-2021 was over £4,141,5808
Nutritional management of infant reflux is therefore:

Effective, reducing symptom frequency and volume9
Supportive of reducing prescribing spend of unnecessary medication
Reducing the burden on parents having to obtain, prepare and administer medications
How to nutritionally manage an infant with reflux and regurgitation.
GPs, Pharmacists, Health Visitors and Dietitians can help to manage reflux with nutrition and reduce financial burden on the NHS. As reflux usually improves spontaneously within the first year of life, the main goal of management is to await this resolution while providing parental reassurance and symptom relief10.
Nutritional management should focus on5:

Supporting breastfeeding
Correct formula preparation
Impact of overfeeding on symptoms
Correcting the frequency and volume of feeds
The use of thickener, or thickened or anti-reflux formula
Infant feeding tools for healthcare professionals
For an easy to use NICE guidelines reminder, download our aSTAR NICE infographic here.
For support with correctly diagnosing infant feeding conditions, download our digital diagnostic tool here.
Why Medicate? Try Nutrition First!
NICE recommends to trial a thickened formula5 when reflux does not resolve through practical advice and reduction of volumes in formula-fed infants.
Aptamil Anti-Reflux and Cow & Gate Instant Carobel reduce regurgitation episodes by up to 78%9.
No prescription required for Aptamil Anti-Reflux, available over the counter. Aptamil Anti-Reflux contains postbiotics and prebiotics to stimulate healthy gut microbiota, immune functioning and development11,12.
Cow & Gate Instant Carobel is a prescribable thickening agent which can be used to thicken formula or breastmilk.
IMPORTANT NOTICE: Breastfeeding is best. Foods for special medical purposes should only be used under medical supervision. May be suitable for use as the sole source of nutrition for infants from different ages, and/or as part of a balanced diet from 6 months onwards. Refer to label for details.
References
Vandenplas Y et al. Gut Health in Early Life: Implications and Management of Gastrointestinal Disorders. Essential Knowledge Briefings. Chichester, England: Wiley; 2015.
Office for National Statistics. Births in England and Wales 2019 [Online]. Available at https://www.ons.gov.uk/peoplepopulationandcommunity/birthsdeathsandmarriages/livebirths/bulletins/birthsummarytablesenglandandwales/2019. Accessed September 2021. https://www.ons.gov.uk/peoplepopulationandcommunity/birthsdeathsandmarriages/livebirths/bulletins/birthsummarytablesenglandandwales/2019
Poets CF & Brockmann PE. Myth: Gastroesophageal reflux is a pathological entity in the preterm infant. Semin Fetal Neonatal Med 2011;16:259–263.
Mahon J, Lifschitz C, Ludwig T, Thapar N, Glanville J, Miqdady M, et al. The costs of functional gastrointestinal disorders and related signs and symptoms in infants: a systematic literature review and cost calculation for England. BMJ Open 2017;7(11):e015594.
National Institute for health and care excellence. Gastro-oesophageal reflux disease in children and young people: diagnosis and management. London: NICE; 2015. Available at: www.nice.org.uk/guidance/NG1 [Accessed: February 2019].
Vandenplas et al. Pediatric gastroesophageal reflux clinical practice guidelines: joint recommendations of the North American Society for Pediatric Gastroenterology, Hepatology, and Nutrition (NASPGHAN) and the European Society for Pediatric Gastroenterology, Hepatology, and Nutrition (ESPGHAN). J Pediatr Gastroenterol Nutr 2009;49(4):498–547.
Belitsi ST, Varghese Mathew A, James M. G364(P) Management of gastroesophageal reflux in infants: current practice of diagnosis and treatment in a UK district general hospital. Arch Dis Child 2015;100:A149 doi:10.1136/archdischild-2015-08599.320.
Openprescribing. Total prescribing for Gaviscon Infant oral powder sachets across all regional teams in NHS England [Online]. Available at https://openprescribing.net/analyse/#org=regional_team&numIds=0101021B0BEADAJ&denom=nothing&selectedTab=map. Accessed August 2021.
Wenzl TG et al. Effects of thickened feeding on gastroesophageal reflux in infants: a placebo-controlled crossover study using intraluminal impedance. J Pediatr 2003;111:e355–e359.
Salvatore S et al. Review shows that parental reassurance and nutritional advice help to optimise the management of functional gastrointestinal disorders in infants. Acta Paediatr. 2018. doi:10.1111/apa.14378.
Boix-Amoros et al. Relationship between Milk Microbiota, Bacterial Load, Macronutrients, and Human Cells during Lactation. Front Microbiol. 2016;20(7):492
Wegh CAM et al. Postbiotics and Their Potential Applications in Early Life Nutrition and Beyond. Int J Mol Sci. 2019;20(19):4673.
You may also be interested in